The Green Bay Packers Football Schedule 2017. They fell one win short of reaching the Super Bowl last season, but quarterback Aaron Rodgers will have an opportunity to lead them back to the promised land in 2017.
While Rodgers' presence makes the Pack a perennial contender, free agency brought several changes on both sides of the ball that figure to give the team a different look next season.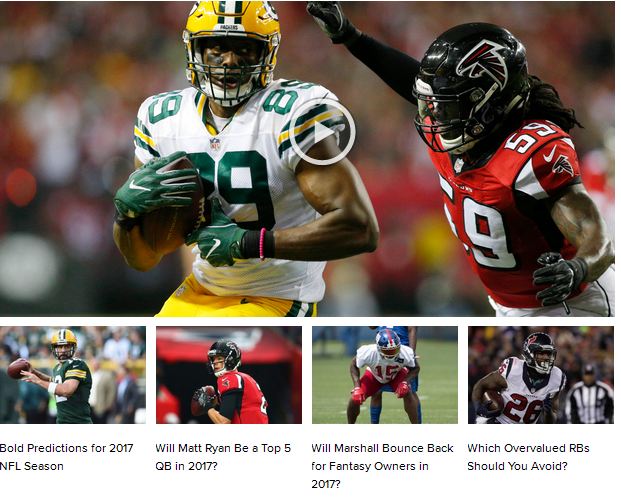 Despite the additions and subtractions, Green Bay will be among the NFC's teams to beat after going on an eight-game winning streak prior to its NFC Championship Game loss to the Atlanta Falcons.
The following is a full rundown of the Packers' 2017 regular-season schedule, along with further analysis regarding their chances of making another run.
Packers Football Schedule
2017 Green Bay Packers' Regular-Season Schedule
Week
Date
Opponent
Time (ET)
TV
1
Sep. 10
Seahawks
4:25 p.m. ET
Fox
2
Sep. 17
@Falcons
8:30 p.m. ET
NBC
3
Sep. 24
Bengals
4:25 p.m. ET
CBS
4
Sep. 28
Bears
8:25 p.m. ET
CBS, NFL Network, Amazon
5
Oct. 08
@Cowboys
4:25 p.m. ET
Fox
6
Oct. 15
@Vikings
1 p.m. ET
Fox
7
Oct. 22
Saints
1 p.m. ET
Fox
8
Bye
9
Nov. 06
Lions
8:30 p.m. ET
ESPN
10
Nov. 12
@Bears
1 p.m. ET
Fox
11
Nov. 19
Ravens
1 p.m. ET
CBS
12
Nov. 26
@Steelers
8:30 p.m. ET
NBC
13
Dec. 03
Buccaneers
1 p.m. ET
Fox
14
Dec. 10
@Browns
1 p.m. ET
Fox
15
Dec. 17
@Panthers
1 p.m. ET
Fox
16
Dec. 23
Vikings
8:30 p.m. ET
NBC
17
Dec. 31
@Lions
1 p.m. ET
Fox
Analysis
The Packers are rarely players in free agency, but the 2017 offseason has been a particularly difficult one in terms of losing key players.
As seen in this tweet courtesy of Pro Football Focus' Nathan Jahnke, multiple offensive and defensive stars tested the market and decided to sign elsewhere:
The offseason wasn't a total loss for Green Bay, though, as it did manage to lure in a few quality players in its own right.
Former Los Angeles Rams tight end Lance Kendricks and former Jacksonville Jaguars cornerback Davon House are among them, but the biggest signing was undoubtedly tight end Martellus Bennett.
With Rob Gronkowski missing much of the 2016 season, Bennett was the New England Patriots' go-to tight end, and he played a huge role in them winning the Super Bowl.
Bennett replaces the departed Jared Cook, who was productive when healthy but couldn't always be counted on due to injury.
Per Ryan Wood of the Green Bay Press-Gazette, Bennett is looking forward to seeing what he can accomplish alongside Rodgers:
Bennett will join an offense that has arguably even more weaponry than that of the Pats.
The wide receiver corps of Jordy Nelson, Randall Cobb and Davante Adams may be the best in the NFL, while receiver-turned-running back Ty Montgomery became a dangerous and versatile option out of the backfield.
There is little doubt that the Packers will put up points, although there are definite question marks surrounding the defense.
Green Bay did manage to retain linebacker Nick Perry, but losing pass-rushers Julius Peppers and Datone Jones—as well as defensive back Micah Hyde—could force the Pack into even more shootouts than usual.
Pivotal Matchups
The Packers have reached the playoffs in each of the past eight seasons, and continuing that streak in 2017 will require success in the NFC North.
Green Bay has won the division in five of the past six years, and it has undoubtedly established itself as the dominant force in the NFC North over the Detroit Lions, Minnesota Vikings and Chicago Bears.
While the Lions made the playoffs as a wild card last season and Minnesota won the division in 2015, the Packers are an overwhelming favorite to maintain their spot atop the NFC North in 2017.